The North Korea School Mushroom Growing Project
INTERIM REPORT FOR BERNARD KRISHER
from UNICEF - PYONGYANG (February 8, 1999)
How Your Contributions Have Helped the Mushroom
Growing Project in Kindergartens and Schools
Note (from Bernard Krisher, Chairman, Internet Appeal for North Korean Flood Victims):
There is no doubt in anyone's mind any more that a serious famine has hit North Korea and is affecting the most vulnerable and defenseless population--children and the elderly. It is difficult, however, for humanitarian organizations to project the real picture because the Koreans are a very proud people. While grateful for international assistance they do not wish to be seen as begging for food or appealing by showing their misery.
This trait exists in both North and South Korea. Both always try to show visitors their best side. It is obvious from these photos, though some of the children look malnourished, that the officials have dressed them up in party clothes and provided new bedding.
They seem to be unaware or not concerned that this may reduce the sympathy and support these children deserve and need in order to keep them fed enough to avoid stunting as they grow older. We urge you to bypass the clothes and think of the children.
Background
For three successive years, the DPRK was severely affected by widespread floods and drought that damaged properties, vital infrastructures such as roads, irrigation facilities and industries vital to agriculture. Moreover, the heavy rains occurred at the critical pre-harvest period resulting in crop loss in many food-producing provinces. Given the short growing season in the country and other agricultural limitations major replantings are therefore not possible.
The FAO/WFP Crop and Food Supply Assessment Mission of June 1998 reported that the food crisis in the DPRK is far from over. Food production and supplies remain precarious and is expected to worsen. It further suggested that the situation would be more critical particularly because the population has already been weakened by low food intake for the past several years.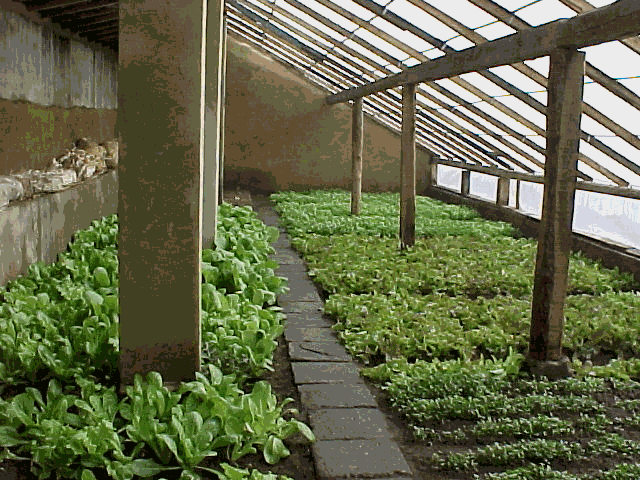 UNICEF-supported greenhouse, Jae Rong Country
Nursery, South Hwanghae province
With substantial reduction in food ration, the population had to resort to various coping mechanisms including the consumption of non-staples such as root and tuber crops. The children are among the most vulnerable section of the population. Because of the nationwide near-famine situation, visible signs of nutritional and vitamin deficiencies, stunted growth and severely under-weight children are now widespread.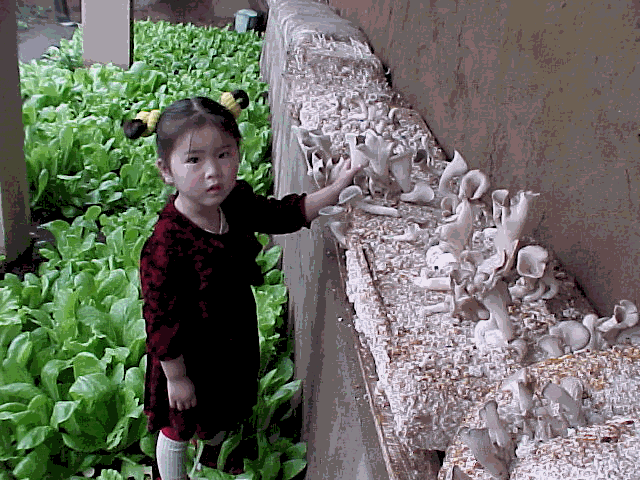 Four-year-old Kim Jong Hi
points to mushrooms cultivated at her nursery.
The Nutrition Survey conducted by UNICEF, the EU, WFP in collaboration with the Government, in September/October 1998 indicated that 16 per cent of children under seven years are currently moderate to severely malnourished (wasting) whereas 2.2 per cent are severely malnourished. In terms population, these percentages amount to 420,000 children are moderate to severely malnourished and 64,000 children are severely malnourished.
Virtually all children below seven years old are attending the countrywide system of 26,000 nurseries and 16,000 kindergartens. To augment the meager food supply to the children, staff of some nurseries and kindergartens are undertaking various production activities in small parcels of land available to them. The mushroom project aims to support and build-up these initiatives.
UNICEF-supported Mushroom Project
Mushroom production, which is currently being done in limited scale in some nurseries and kindergartens, will be supported and expanded. This is because mushrooms require very small space to produce, it can be produced throughout the year, it can be preserved (dried) for consumption throughout the year and most importantly, they are very nutritious (high protein, phosphorus, iron, thiamin and ascorbic acid). Moreover, local expertise for mushroom production is available.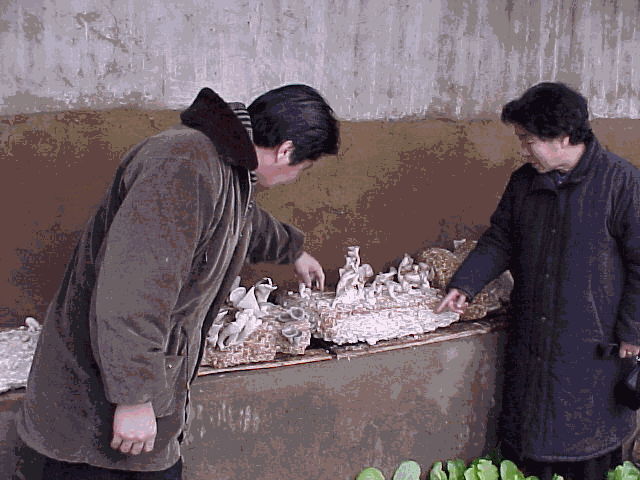 Ri Chol Song, UNICEF national program officer, and Ms. Kim Jae Su,
director of nurseries, inspect mushrooms at the Jae Rong country nursery.
Winter is not ideal for mushroom cultivation.
To ensure that mushroom spawns are readily available, its production will be partly centralized. A nursery/kindergarten that had successfully produced spawns will provide for 20 other nurseries and kindergartens.
The project will provide to each targeted institution a set consisting of plastic sheets, mushroom growing media (corn cobs), electric steam sterilizer, voltage regulator, refrigerator, ultra violet lamp, watering can, hose, and high-pressure sprayers.
The institutions receiving the sets are to supply other institutions with spawn for mushroom production. During field visits to the institutions receiving the sets, caregivers have shown their expertise on how to produce mushrooms spawns and to keep them refrigerated for distribution.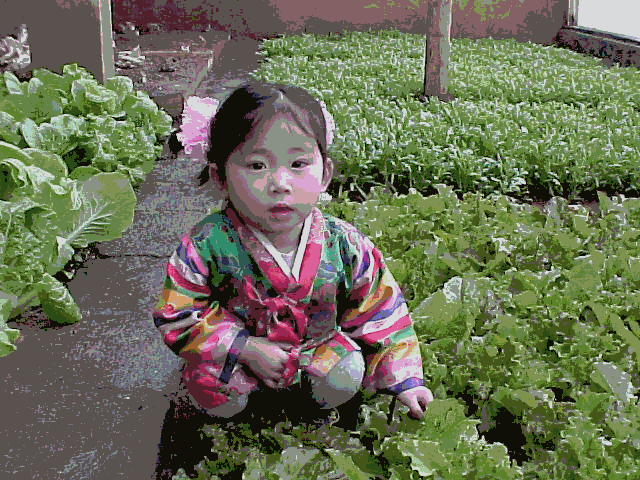 O Yong Ok, 4, shows the greenhouse at the Jae Rong
county nursery, South Hwanghae, to visitors.
Monitoring and Evaluation:
The monitoring and evaluation will be undertaken by both UNICEF and the National Coordinating Committee for UNICEF (NCC). The monitoring activity will emphasize on the identification of the problems encountered, needs (material and technical) and solutions using both scientific and local expertise. Visits to nurseries and kindergartens will be organized. "Success stories" will be documented and shared among staff of nurseries and kindergartens in the project. UNICEF and NCC will jointly evaluate the information gathered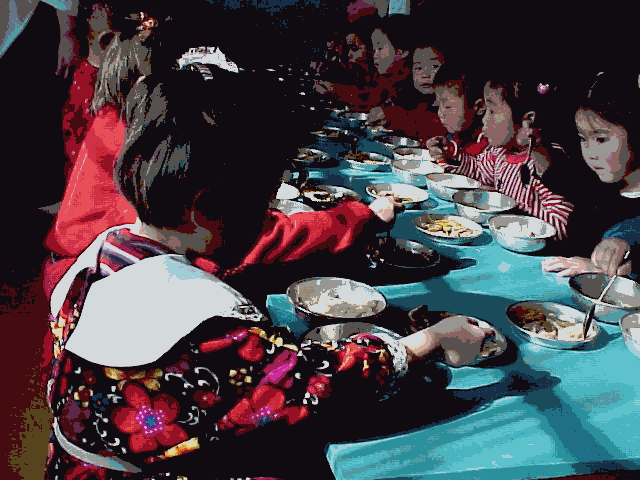 Nutritious mushrooms are now a regular dish in the lunch menu for
the children of the Jae Rong county nursery, South Hwanghae
Overall in 1998, there have been signs of improvement in the nutritional and health status of children, which were observed in nurseries, kindergartens and orphanages. Children appear to be in good health and attendance has improved considerably since 1997. These positive developments can be attributed to keen donor support and successful targeting of international assistance.


Funding

Funding support from donors such as Bernard Krisher and others has attributed the mushroom projectís successful implementation last year. In 1999, UNICEF will continue its support to targeted institutions at the cost of US $175,000 for the food security program. The program includes material inputs to establish greenhouses at an estimated cost per greenhouse of US $341. Other projects include small-scale vegetable production and an evaluation of the livestock and mushroom production projects.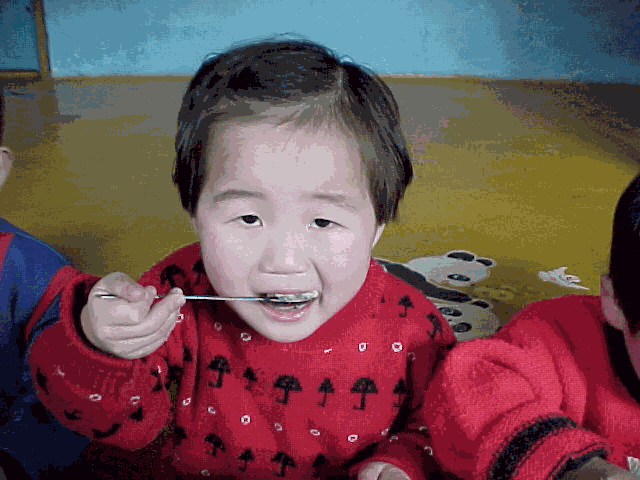 Approximate cost estimates for a medium size greenhouse
1 bag of plastic sheet (0.07 mm)

2 rolls of plastic sheet (0.25 mm)

5 watering cans

1 polyethylene hose (40m)

2 high pressure sprayers

Sterilizer steam, medium size

Voltage regulator

Refrigerator

Ultra-violet lamp (2)
_______________________

Total

Electricity and heating

$95

$173

$15

$22

$36

$800

$100

$334

$40
_____________

$1,615

(recurrent cost)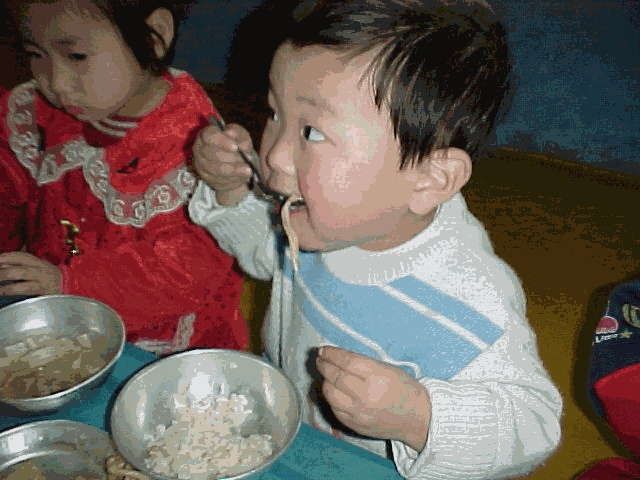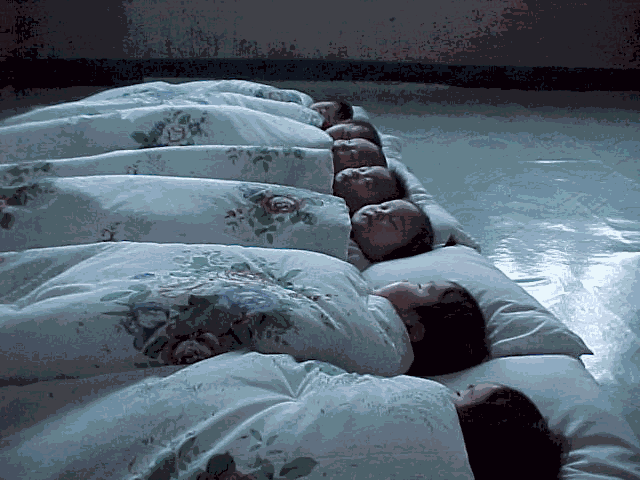 Children sleeping at the Jae Rong county nursery, South Hwangchae